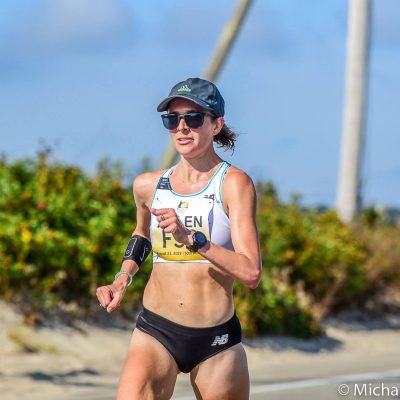 Kerry Allen
Kerry began running in middle school in her hometown of St. Petersburg, FL. She wanted to join one of her school's sports teams and at under 4'6″ neither basketball nor volleyball seemed like a good idea, leaving track as the only option. Kerry ended up having some natural talent and went on to have a successful high school career, including one state championship. Kerry ran for one year at Duke University before taking a 5 year hiatus from competitive running to focus on more important things, like camping out for Duke basketball tickets.
After college, Kerry moved to DC to pursue a career on Capitol Hill. Her roommate at the time was training for a marathon with the goal of qualifying for Boston, which made Kerry wonder if she could do the same. She ran her first marathon in 2011, and things snowballed from there.
Why the Alexandria Turkey Trot: This will be Kerry's fifth year of running the Trot. She is drawn to the ample supply of bananas, fast competition, and good vibes.
Race Results:
2020 Olympic Marathon Trials Qualifier
4th place female, Philadelphia Marathon, 2021
Winner 2017 DC Rock n' Roll Half Marathon
PRs
5k: 16:57
10k: 34:32
10 mile: 56:33
Half marathon: 1:15:47
Marathon: 2:40:12