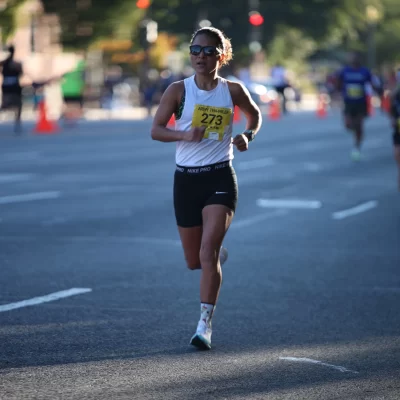 Nilani Duarte
Nilani grew up in Southern California and earned a scholarship to play Division 1 soccer at George Mason University. Nilani started running after college when a friend convinced her to
run a marathon. She caught the marathon bug and ran 5 marathons, including the Boston Marathon in 2017 and 2018. Nilani is a 2019 Duathlon (run-bike-run) All-American after winning
5 consecutive duathlons on the East Coast. Nilani began focusing on shorter distances where she started to see progress in speed and started running more competitively. NIlani had a baby
in March of 2020 and now logs many miles with her son Eli in the stroller. Nilani has set a PR in every distance from the 5k to the half marathon since returning to running postpartum and has
been a part of the elite field for Broad Street and the Philadelphia Distance Run. Nilani lives in Fairfax with her husband, a Sports Medicine Doctor for Anderson Orthopedic and 18-month-old
son Eli.